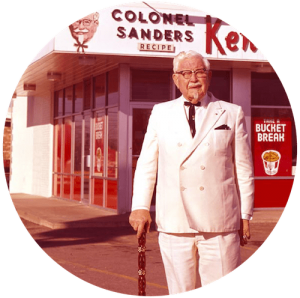 Colonel Harland Sanders was a man who encountered struggle after struggle.
…He was
fired
from a variety of jobs throughout his career
…He first started cooking chicken in his roadside Shell Service Station in 1930, at the ripe age of 40, and during the
Great Depression
…His gas station didn't actually have a restaurant, so he served diners in his attached personal living quarters.
Over the next 10 years, he perfected his "Secret Recipe" and chicken-frying method for his now world-famous fried chicken before moving onto bigger locations.
But even then, it was not all sunshine and roses for the Colonel. Soon enough, the interstate came through the Kentucky town where the Colonel's restaurant was located in the 1950s.
It took away important walk-in traffic, and the Colonel was forced to close his business and retire.
Disheartened. Broke. Depressed.
His
$105 monthly pension
cheque wasn't helping his situation either…
…At this point, the man was presented with 2 options.
1. He could accept his dire situation as what it was, and wait for misery to consume his entire being. Or…
2. He could
take massive action
to change his circumstances
There's a certain type of beauty in destruction… Because it's only during moments of adversity that the heart of man truly shines. And that's what Colonel did.
He chose to discover his true purpose. He chose to believe that this wasn't the end. He chose change over hopelessness.
That's when he set out to franchise his secret recipe. The path itself was not far from easy. Sanders ended up sleeping in his car and getting rejected over a thousand times…
Until he found his first partner.
Kentucky Fried Chicken is now worth over
15 BILLION DOLLARS.